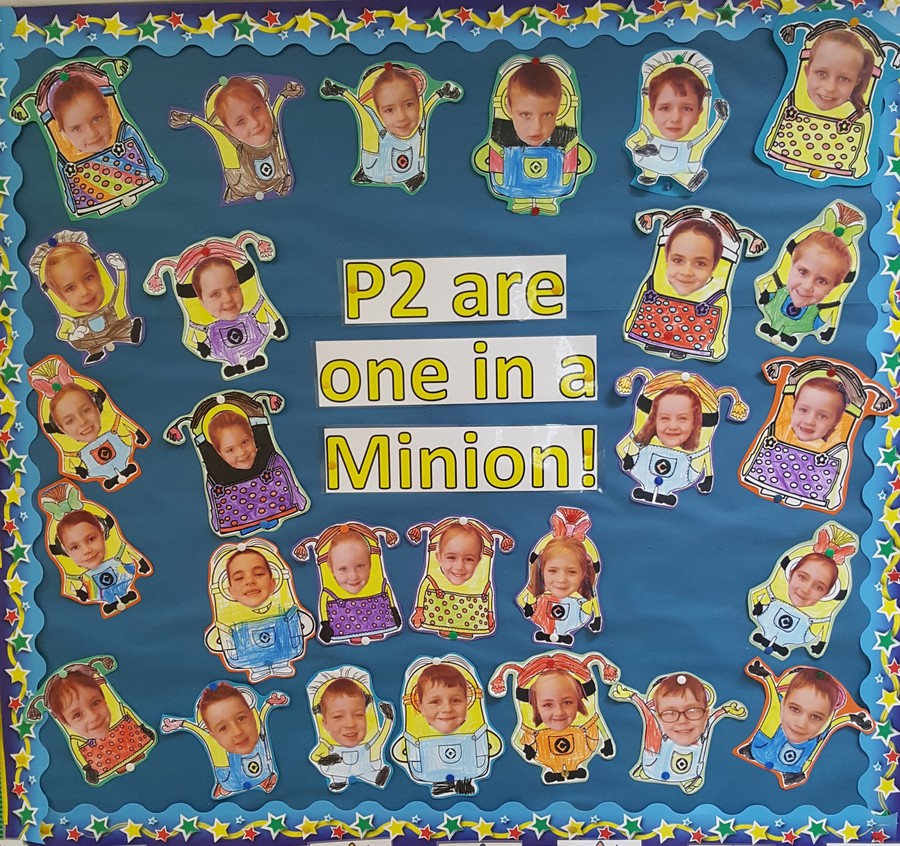 Primary 2
Welcome to the Primary 2 web page.
Class Teacher: Mrs Mc Cann
Classroom Assistant: Miss Heaney and
Miss Mc Shane
Below are some photographs of all the fun and educational activities we get up to in P2.
Enjoy!
Castle Espie Trip
Primary 2 from Fair Hill joined us on a fantastic trip to Castle Espie. It was a very enjoyable and educational trip. We got to feed birds, build nests, search for ducks and explore the wetlands.
Shared Education
P2 in Fair Hill have worked hard with our class and we have all really enjoyed our Shared Education activities. We talked about where we all come from, what groups we belonged to, our similarities and differences. At the end we all learned new skills such as soccer, Gaelic, Irish Dancing. Overall we all had a fantastic time and loved meeting our New Friends again.
Measure
P2 really enjoyed learning about measure this week! They started off by using play dough to measure longer and shorter.
Then we used our hands and feet to measure bigger objects around the room. After that we used cubes and straws to measure smaller objects in the room.
Lastly we measured ourselves by height and found out who the tallest and shortest boys and girls where in our class.
PDMU Activity
P2 were given the very important job of minding a Jelly Baby for a whole day, without losing it, breaking it or eating it! They had a range of fun activities to complete during the day such as naming their baby, deciding what it likes and doesn't like, creating clothes, toys, furniture and even a house for their baby.
They also had opportunities to take their baby to play group or visit other baby friends. They had to make decisions as to whether it was best to take their baby outside at play or was it safer to leave them inside.
This was a fantastic experience for all the children and they really showed their amazing caring and nurturing sides. Their incredible creativity and imagination shone through all day long. I am pleased to say that all Jelly babies made it through the day bar one accidently falling in the bin and another unexplained missing head!!
Gaelic Dress Up Day
P2 really enjoy Gaelic Dress up Day. Everyone dressed up and talked about the different coloured jerseys they were wearing and why. Then P2 played a game of Penalty Shoot Out, which was very exciting!! P2 also designed some marvellous footballs, some of which had special powers when they were kicked!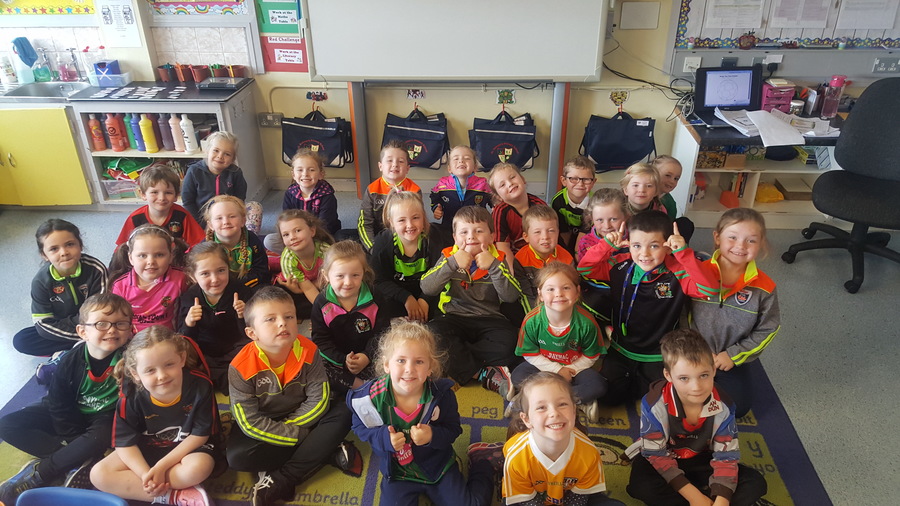 Sequencing
We are learning about Sequencing in maths. Look at all the fun we had ordering ourselves in to the correct sequences!
Play Based Learning
Play is a very important part of our learning in Primary 2 and we love it! Have a look at some of the fun and interesting things we get to do during our play based learning time.
Our First Day in Primary 2
All the children were very excited to be in Primary 2 and
have promised to work hard all year!