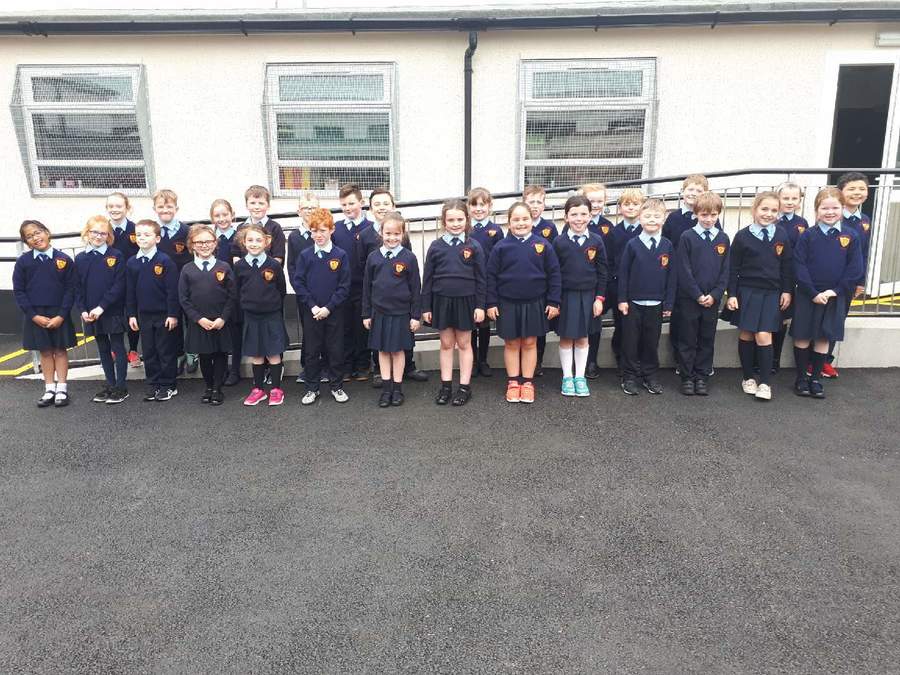 Teacher - Mrs Quinn
Classroom Assistant – Mrs Kerr
For term 2, our topics are "Food' and 'Birds and Flight|. We will enjoy learning about the different types of birds and all the interesting facts about each bird. For our food topic, We will be working with the P.5 pupils from Fair Hill on "Healthy Eating" and we will be visiting Irwins Bakery in Belfast. Our teacher has organised the 'Dairy Food Council' to visit our school and discuss 'The Food & Fitness Program'. Mrs Quinn has promised us a special treat (Mid Feb) – A trip to Tescos for the Field to Fork Project - and then we are going to have lunch in the 'Blend and Batch' café. We are really looking forward to this!
Numeracy
We love doing practical activites in our Numeracy lessons. We cover many topics throughout the year including time, data handling, angles and shape. We are also given the opportunity to use the Ipads for quick maths and IXL to help reinforce our topics we cover. We are also using the new maths resource in our school-ISAK 9 which covers all areas of maths. During these practical lessons we are working as part of a team to carry out the number, algebra, problem-solving and many other tasks.
Literacy
We have to become more independent this year. In P5 we are encouraged to read novels every day and we are fortunate to have the library van visit our school. When we complete a reading or library book we take an Accelerated Reading quiz to show how well we understood the book that we were reading.
In Term 2 we participate in the Paired Reading Program which involves our parents helping us to progess further and become more fluent and independent readers.
We will write in lots of different styles such as play scripts, non-chronological reports, instructional and narrative writing. Our main focus though will be on Instructional writing.
PE
We are very lucky in P5 to have a football coach Benny Coulter.
We will be learning a variety of ball skills and showing our great team work in our mini-games. We keep ourselves very fit.
We will also be participating in 'Relax Kids' classes with our teacher. The theme for the 6 weeks is 'BE Brilliant'. Our teacher takes us through a 7 step system of Movement, Games, Stretch, Feel, Breathe, Believe and Relax. We are taken from a high energy to a low energy and through participating in these classes we can develop our creativity, imagination, focus and concentration, listening skills, increase our confidence and general relaxation. Classes are fun and energetic but relaxing too!
During this term we are going to have swimming lessons in Banbridge Leisure Centre and we will be aiming to recieve a swimming badge at the end.
We have Spanish every Monday morning with Patricia Connelly, our lessons are very enjoyable
I.C.T
In P5 we have been learning how to make a book on the ipads through Book Creator. Below are our bird books.